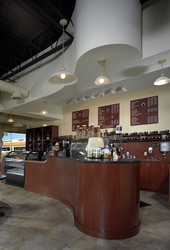 Welcome to Gizzi's,
the coffee lover's place!
GIZZI'S ENTERTAINMENT SCHEDULE: FEBRUARY 2015



Step into our welcoming, living room like ambiance and enjoy one of our 50 country or flavored blends of organic coffees from around the world. Not a coffee fan? Don't worry we serve a wide variety of organic teas, delicious smoothies and your kid's favorites. Our signature paninis and sandwiches are promptly prepared to order with the highest quality ingredients and soon we will be adding salads and fruits to our menu. Are you a dessert lover? Indulge yourself with one of our freshly baked pastries delivered from a local bakery every day. The schedule will be updated on a regular basis, please check back often.

Gizzi's coffee, conveniently located on the East Side of Federal Highway always has a FREE WIFI hot spot! Stop at Gizzis during your daily drive time to and from work or on your sales rounds. Besides free high speed internet services we serve the very finest coffees from around the world and the freshest food and pastry available anywhere - at prices you can afford.

Print coupons from this page for plenty of FREE offers from Gizzi's.

To redeem these offers you must bring an original printed coupon with you. Click here for Gizzi's Coupons
At Gizzi's we offer accommodations for entertainers, special occasion parties and business meetings at no charge.

It's our pleasure to create a menu that best suits the event and guests needs. Gizzi's Coffee is the perfect place to meet up with your friends, grab a sandwich, cup of coffee, read a newspaper, get some work done, surf the Internet or just relax. Free Wi-Fi is always available. We welcome independent musicians, story tellers, comedians and just about anyone who would like to perform in our friendly casual environment.